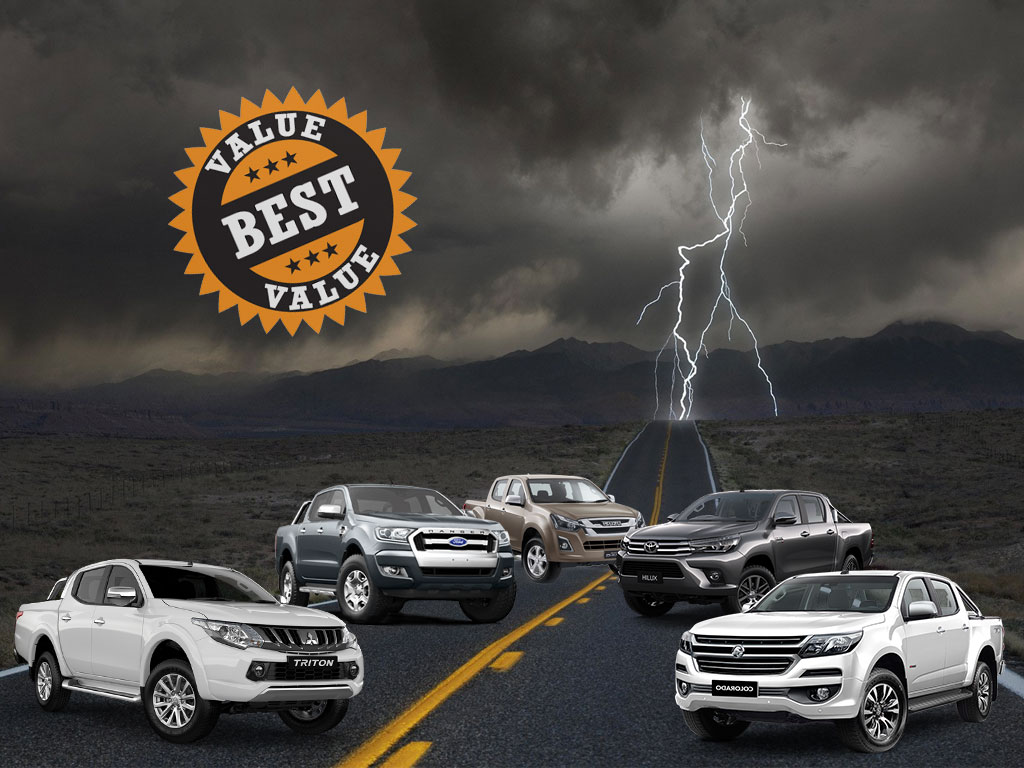 As June 30 nears, so does the end of financial year (EOFY) car sales. It's that time when car dealers are scrambling to meet their yearly sales targets and clear outdated stock from the showroom. It makes sense for you to shop for a new car now when dealers are itching to give you a better deal.
The incentives which manufacturers and dealers dangle in order to lure you into buying before they close their books for their financial year vary from price discounts, eftpos cards for instant cash in your pocket, value added deals such as free upgrades and accessories, free servicing, and free on-road costs.
But the question is, what are the best value deals in the market at the moment so you can get the best possible bargain?
If you're in the market for a 2017 4WD Dual Cab Ute then we have scoped out the best deals rolling around the showrooms for the EOFY.
Ford Ranger

Right now Ford is offering a drive away deal with free auto upgrade on the Ranger 4WD XLT double cab 3.2L diesel ute. This free upgrade saves you approximately $2200, and with an EOFY sale price of $56,490, you can save about $3673 if you buy before the end of the financial year. Bear in mind that the XLT isn't the top of the line, like the next deal on the Colorado LTZ.
Holden Colorado

Holden have only released a deal on its big dog, the Colorado MY17 LTZ 4×4 Crew Cab Manual Pick Up, with a drive away price down to $49,990. They have included a free auto upgrade, with a $2266 value and 3 years free scheduled servicing, valued at approximately $1400. Considering the RRP with on road costs for the automatic is $57,123, you've got a saving and added value of approximately $8533.
Mitsubishi Triton

Mitsubishi has its number two, the Triton GLS+ 4WD Double Cab with a manual gearbox on sale for $38,990 Drive away. They are offering 3 years capped price servicing and as an added incentive to get you to bite the bullet, they are offering a $2000 eftpos card, or that value taken off the price of the vehicle. Due to the chance of the manufacturer increasing their service costs an approximate value of $250-300 for the 3 year capped price servicing was given, which equates to the first 3 services. These savings come to about $8878 all up off of the $45,618 RRP.
Isuzu D-MAX

Isuzu is currently offering their $7000 ABN holder discount to private buyers on its LS-M model drive away. The EOFY sale price for the auto is $43,190 and with an additional 5 year capped price servicing. As part of the sale, two of the five years will be free, which has a value of about $500.  This gives a saving of $7500 if you get in and buy a D-MAX before the EOFY is over.
Toyota Hilux

The Toyota 4×4 SR5 range currently has a deal on its top Hilux with free on road costs and free Tow and Stow Pack, which is valued at over $1000. If buying outside of the EOFY sale time you'll be looking at $61,335 drive away for the automatic SR5, but right now you can get it for $56,940 drive away with the added bonus of a free Tow and Stow. All up you have a saving and added value of about $5395.
So which is the best deal?
The stand out deal is the Triton GLS+ 4WD Double Cab. Mitsubishi has put together a lucrative package that already gives you a good saving off the RRP. Once you take into account the added eftpos card and capped price servicing, this $8878 saving has pushed it across the line just in front of the Colorado LTZ. But with only a $345 difference, there isn't much in it and with just a phone call to Salary Packaging Australia this difference may be even less.
There are always big deals during May and June and if you don't have a particular model in mind than you are more likely to find a ute with more added value.  Unfortunately, you won't necessarily find a deal if you have a specific model in mind. Bear in mind that if a car already sells well organically then manufacturers are less likely to greatly discount or promote sales on these, even during EOFY sale time. But the good news is that there is a greater chance of getting a deal now while dealers are trying to meet their yearly sales targets.
If you don't like car yards and haggling with dealers, just give Salary Packaging Australia a call on 1300 786 664 and we will find you the best deal within our huge network of dealers in Australia. We will try to do an even better deal with the dealers, which will ultimately lower your finance amount.
Our team of Novated Leasing experts are available to answer any questions about your choice of vehicle and the possible resale value. Remember the better your choice and if you look after the vehicle, the more money in your pocket at the end of the lease.